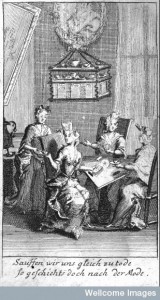 In 1685 a printed treatise declared that:
'amongst all the Drugs whereof Heaven has shewed it self liberal to Men, there be three chiefly which in our time have required so great a vogue or credit, and so particular an esteem through all Europe by the signal effects which they are daily found to produce in an infinite number of People'.1 The drugs the author was describing are familiar still; tea, coffee and chocolate (hot chocolate). The spread of these drinks during the seventeenth century was accompanied by a medical discussion about the benefits they could have.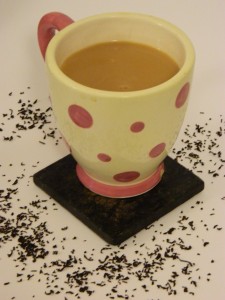 Indeed the author of this tract went on to extol the virtues of tea noting that '`tis the common vogue and opinion of this Country, that there is nothing more Soveraign then this plant'.2 According the treatise tea was believed to prolong life into old age, render the body vigorous, cure pains of the head, rheums, and soreness of the eyes, shortness of breath , weakness of the stomach and griping of the guts.3 (Reading this list I feel totally vindicated in my love of a good cuppa)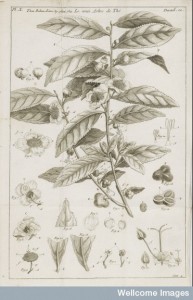 The same tract also stated that coffee could be beneficial to health, it was thought to be good for cold swellings of the liver and spleen, the author also claimed that Parisian coffee shops sold coffee with the commendation that it dried up cold and moist humours, fortified the liver, eased the dropsy and was a sovereign medicine against corruption of the blood and helped the shortness of breath.4
So it would seem that there was little between tea and coffee, both were medicinally beneficial. Yet coffee's reputation in the popular literature of early modern England was not so straightforward. Coffee in a certain group of satirical pamphlets became highly controversial as 'women' (although it was probably written by men) claimed that coffee as a heating a drying drink was making men impotent.
The Women's Petition Against Coffee (1674) decried that the country's men who were previously the 'Ablest Performers' of venereal pursuits were now 'meer Cock-sparrows fluttering things' 'not capable of performing those Devoirs which their Duty, and our Expectation Exact'.5  The author of this pamphlet knew exactly what was to blame for this disappointment, it was 
'the Excessive use of that Newfangled, Abominable, Heathenish Liquor called COFFEE, which Riffling Nature of her Choicest Treasures, and Drying up the Radical Moisture, has so Eunuch: our Husbands, and Crippled our more kind Gallants, that they are become as Impotent, as Age, and as unfruitful as those Desarts whence that unhappy Berry is said to be brought.'6
This was damning condemnation indeed, but the coffee drinkers this pamphlet supposedly addressed fought back. In the same year The Mens Answer to the Womens Petition Against Coffee Vindicating Their own Performances  was published to answer the undeserved aspersions cast by that scandalous pamphlet. In reality these pamphlets were probably written and produced by the same author. This new pamphlet not only asserted that English men were certainly not fluttering sparrows unable to satisfy their women, but claimed that women were too lusty and expected too much from their men.7 The writer of the pamphlet asked, 'why must innocent COFFEE be the object of your Spleen? That harmless and healing Liquor' when it was evident than rather than causing impotence it was in fact beneficial to men's sexual abilities; it was an aphrodisiac that improved all elements of men's sexual and reproductive abilities,
'it rather assists us for your Nocturnal Benevolencies, by drying up those Crude Flatulent Humours, which otherwise would make us only Flash in the Pan, without doing that Thundering Execution which your Expectations Exact'.8
He went on to explain that 'Coffee Collects and settles the Spirits, makes the erection more Vigorous, the Ejaculation more full, adds a spiritualescency to the Sperme, and renders it more firm and suitable to the Gusto of the womb, and proportionate to the ardours and expectation too, of the female Paramour.'9
These satirical and humorous pamphlets were of course speaking to broader cultural concerns than simply the ability of coffee to impede or improve men's sexual abilities. They tied in to concerns about barrenness and infertility and the belief that a lack of children in a marriage showed social disorder and prevented men and women from fulfilling their expected social roles. They also of course show that in early modern society where new foods and drinks were being brought into the country and regularly consumed there was an interest in the health benefits of these new substances. But most importantly, for me at least, these pamphlets emphasise a key aspect of early modern thinking about the body, and the sexed and sexual body in particular. They shown that men and women at this time perceived their sexual, and reproductive abilities, as inherently vulnerable and sensitive: a man's ability to engage in intercourse could be debilitated or strengthened simply by a cup of coffee. Food and drink altered the humoural balance of the body in a variety of ways and this could be manipulated to either restrict or enhance the chances of engaging in pleasurable sexual intercourse and conceiving a child.
[I will be discussing this issue in greater detail in my forthcoming book  Kindling Cupids Fire: Aphrodisiacs, Society and Culture In Early Modern England]
_______________________________
1. The Manner of Making of COFFEE, TEA and CHOCOLATE … (London, 1685), sig. A3r
2. Ibid, p.49.
3. Ibid, p.49.
4. Ibid, pp. 11-12.
5. Anonymous, The Women's Petition Against Coffee … (London, 1674), p.1.
6. Ibid, p. 2.
7. Anonymous, The Mens Answer to the Womens Petition Against Coffee, Vindicating Their own Perfomances … (London, 1674), p.1.
8. Ibid, pp. 2-3.
9. Ibid, p. 4.
© Copyright Jennifer Evans all rights reserved.