Breastfeeding Mothers and Milk in Shakespeare
Dr Victoria Sparey
Many of Shakespeare's characters are described in terms that relate to milk and infant feeding. In Titus Andronicus, Lavinia considers whether pleas for mercy will save her from being raped by the Queen's sons, who 'even at thy teat…hadst thy tyranny' (2.3.145); Act 2, Scene 3 of Romeo and Juliet consists of the Nurse's account of Juliet's weaning (we hear how Juliet was weaned after three years, that wormwood was applied to the breast, and that an earthquake accompanied the event); in The Winter's Tale, Leontes angrily tells his wife that he 'is Glad [she] did not Nurse' their son as he removes the son (aptly called Mamillius) from his mother's presence (2.1.56); Lady Macbeth's murderous resolve orientates around the image of exchanging 'milk for gall' (Macbeth 1.5.55). The list goes on.
Faced with such milky moments in Shakespeare, we might see breastfeeding as powerful metaphor and leave it at that. A reading of Goneril's denigration of her husband as 'milk-liver'd' in King Lear might, for example, identify milk as a feminizing substance, a useful means for articulating emasculating cowardice or, by contrast, unwavering determination might be signaled when no milk is present (4.2.52). So, while Goneril accuses her husband of unmanly inaction, Lady Macbeth is disassociated from this feminizing substance in her masculine resolve. Such readings would be based upon the simple assumption that association with milk is feminine, while dissociation from milk is masculine. These readings are not wrong per se, but this approach to all bodily language in Shakespeare rather misses a key question for anyone interested in the early modern period: why are milk-orientated images so powerful in Shakespeare? A historicized answer to this question reveals that any 'simple' assumption about the metaphorical qualities of milk does not fully appreciate the humoral doctrine that underpinned early modern medical knowledge.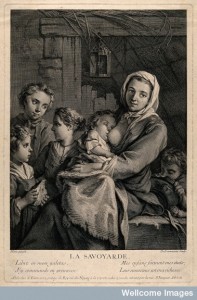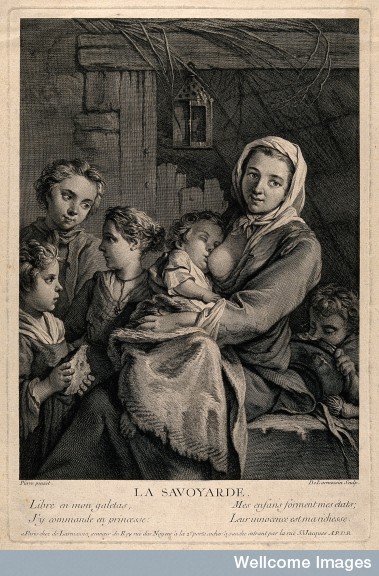 Readers of this blog probably know that the proportion in which the four humours (blood, phlegm, yellow bile and black bile) existed in the early modern body was thought to influence the individual's body and mind. A physical reality was thought to underpin an emotional state. As a substance of the humoral body, breast milk was accordingly understood to shape the physicality and mentality of the suckling child. As Thomas Raynalde observed, 'affections and qualities [of the nurse] passeth forth through the milke into the child, making the child of like condition and manners.'[1] Medical writers regularly presented concerns regarding a situation that saw the humoral properties that underscored the selfhood of one person (the mother/nurse) contribute to shaping the selfhood of another (the child). Care was, for example, urged in choosing a healthy and moral wet-nurse, and breastfeeding women were advised to observe moderate diets and avoid excessive physical exertion that would cause humoral imbalances in the milk and, consequently, the child who received it.[2]
Everyone, males and females, were perceived to be humorally bound to their nurse's milk. The degree to which a child might be physically and mentally like its nurse was what medical writers presented as needing careful management. Understanding the humoral nature of infant feeding begins to show how viewing milk as feminine and its absence as masculine appears overly simplistic for the early modern context in which Shakespeare was writing. Indeed, an appreciation of humoral principles allows us to see how references to milk and infant feeding in Shakespeare are usually more than a convenient metaphor, because milk imagery is often exactly appropriate to the dramatic scenario that is being played out.
When Lavinia contemplates her attackers' capacity for mercy in Titus Andronicus, she identifies the connection between the selves of mother and sons. The sons are recognized as an extension of the Queen's body and self. Images of tyranny at the teat do more than simply express how very evil the Queen is; they engage with concerns about the humoral connectivity of selves. The Queen (newly married to the Roman Emperor) reveals her devastating ability to shape progeny to her own mold. At the play's end when the Queen unknowingly eats a pie for which her sons are the filling, the bodies of the sons appropriately (if rather gruesomely) return to their source.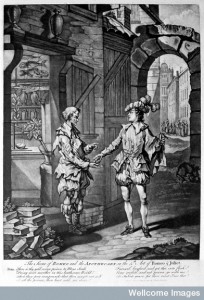 Shakespeare's plays offer compelling cultural engagements with the implications of medical knowledge. The Nurse's narrative of weaning in Romeo and Juliet provides more than a domestic anecdote. Medical texts observed that the influence of a nurse's humoral milk could threaten family bonds. As a child came to resemble less its parents and more its wet-nurse, the children might prove 'undutiful to their Parents'.[3] Juliet's tragic tale- at least in part-engages with the consequences of disrupted family bonds. It would be too far to frame the Nurse as sole cause of Juliet's tragedy, but her substitution for Lady Capulet's 'mother' role is part of what problematises family relationships in the play.[4]
Although space to do justice to Shakespeare's engagements with medical ideas is beyond the limits of this blog entry, these tantalizing snippets from a few plays hopefully serve to highlight how the implications of medical theory were being explored through the human interactions that were being played out on Shakespeare's stage. Lady Macbeth is not, after all, simply a woman with masculine resolve; she is a character within a play that pointedly examines maternal influence and what it means to be 'of woman born' (5.7.13).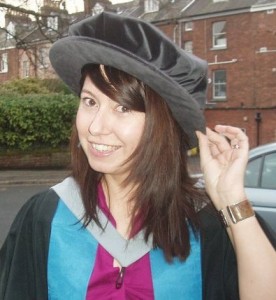 (For some interesting reading on breast milk in the modern and ancient world try Dr Laurence Totelin's blog
________________________
© Copyright Victoria Sparey all rights reserved.