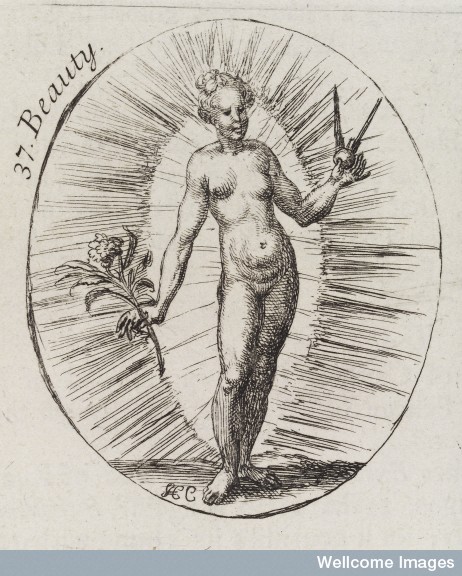 This blog post is really an addition to the Beautiful Healthy Bodies post from January. In that blog post I discussed the connections between physical appearance and disease. The blog started by discussing the connections between venereal disease, appearance and morality. Venereal disease could be an obvious bodily affliction causing pustules, hair loss, a pale complexion, dark circles under the eyes and problems with the mouth and nose. (For more information on living with a venereal disease see Lisa Smith's excellent post http://www.sloaneletters.com/suffering-venereal-disease-in-the-early-eighteenth-century/) Moreover, as we know, this disease was associated strongly with immorality and illicit sexual behaviour. Men caught it by having sex with harlots and foul women. So being visibly afflicted with the French Disease meant that you could be both physically and morally unattractive.
But it would appear that for at least one early modern surgeon there was a secondary level of connections between beauty and the pox. John Browne explained to readers of The Surgeons Assistant that beauty caused you to catch the disease, or for it to manifest more strongly in the body.1 Conversely he explained ugly people were less likely to catch a venereal disease; and not only because of their reduced chances of securing a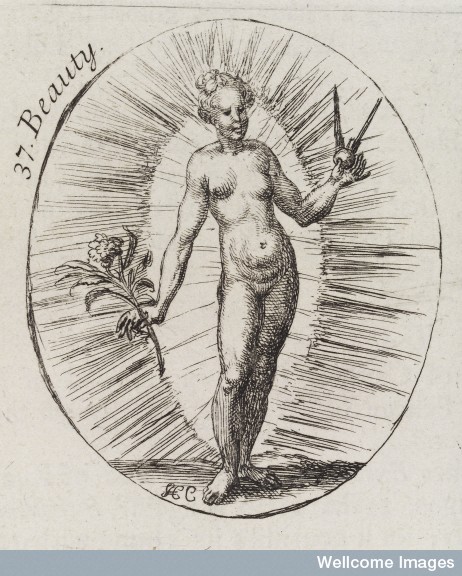 sexual partner.
Medical theory in the early modern period postulated that sexual desire and pleasure were intimately bound into the body's heat, which increased during arousal. This heat was vital for reproduction and caused bodies to be fertile. But, heat was also thought to be a contributing factor to corruption of venereal disease. In the seventeenth century some medical writers argued that the disease could be bred spontaneously in a woman's body if she had sex with multiple partners. They argued that the seed from these encounters would mix in her, which was importantly hot, womb and putrefy into a dangerous contagion that would then be passed onto the next man she happened to be with. Brown mixed these ideas of heat, desire and contagion to suggest that:
'and another reason hereof may be also, that those who do mostly exercise themselves thus with impure Women, and do with most heat and lustful desire (meeting with Women of their own Kidney, answering their letchery,) entertain them in their Embraces, they are seen sooner infected with this disease, than those that proceed with less vigour and heat; and this is made good, in shewing the difference between those that are handsome and those that are ugly, where we may suppose, as the first by their charming Beauty may increase the flame, the other as ready is seen to extinguish it.'2
Thus, he suggests that because ugly sexual partners will raise less desire and pleasure during intercourse, the heat of the action will be minimised. This in turn would offer some protection from the ravages of venereal disease, which may have served only to increase the persons perceived unattractiveness. Taken to an extreme conclusion Browne's theory could suggest that the beautiful were more likely to become the ugly whose previous charming beauty was marred by pox marks, scars and hair loss.
John Browne was not alone is considering the consequences of sex with an ugly partner. In the eighteenth-century medical treatise Conjugal Love Reveal'd Nicholas Venette also asked ' If there is greater inconveniency in kissing an Ugly Woman than a Pretty one.' 3 Unlike Browne, Venette did not spend much time considering the benefits of this situation but rather lamented that an ugly partner would cause men to experience sexual dysfunction: 'ugliness calms all our Raptures; far from exciting us to Love, it rather makes us to abhor all its Pleasures. If peradventure we are obliged to approach an ugly Woman, our secret Parts slacken rather than stiffen'.4 He cautioned that attempting to engage in intercourse with an unattractive woman could cause 'strange Accidents' and would result in the birth of children who were 'dull'.5 In the end Venette concluded that there were no benefits to taking an ugly partner and instead warned his readers to select a bride who was neither too beautiful or too ugly:
'Were I to advise any one to marry, I should exclude both the Handsom and the Ugly, The first is apt to be imperious, and will sooner be common than particular. The other will cause Repentance and may be Divorcing. except the Husband is endowed With particular Vertues'.6
It would seem then, for some medical authors, that the beauty of your sexual partners, and marriage partner, was a matter of health that could have severe consequences. One the one hand beauty could lead to venereal disease but on the other ugliness could lead to impotence and doltish offspring.
__________________________
1 John Browne, The Surgeons Assistant. In which is plainly discovered the True Origin of most Diseases. Treating particularly of the Plague, French Pox, Leprosie, &c. … (London, 1703).
2 Ibid, p.63.
3 Nicholas Venette, Conjugal Love Reveal'd … (London, 1720?), p, 162.
4 Ibid, p. 165.
5 Ibid, pp.166-7.
6 Ibid, p.168.
© Copyright Jennifer Evans. All rights reserved.