Dr Sara Read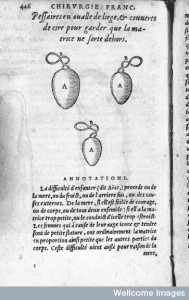 In the second of our occasional series on the kinds of therapeutic treatments that early modern medicine had to offer, we are going to look at the pessary.
In 1583 Philip Barrough explained what a pessary was:
Pessarie is a medicine which is made of softe woll, or such like thing, and it is put into the privities of women. The figure or shape of it is like a suppositary, but that it is longer and thicker, because it must be put into the wombe. It is made of waxe, or of cloath or cotton, or of lint first dipped & wet in oyntment, or in a medicine meete and conuenient for the cure. Afterward wind them in silke, and hang a thread thereon, that it may be drawen out the more easilie.1
A pessary, then as now, was most often used as a means of delivering medication internally, and was placed into the vagina, not the uterus, but in fact Barrough's use of the term 'wombe' did mean vagina rather than uterus. Elaine Hobby explains in the Introduction to Jane Sharp's The Midwives Book that the term womb often meant the same in the seventeenth century as it does today, but is differentiated from its 'neck', the vagina, and 'mouth', the cervix. However, sometimes the womb is known as the 'bottom' and 'womb' means the vagina.2
Nearly a hundred years later Moses Charras's explanation was similar:
Under the name of Pessaries, are comprehended all Medicines not liquid, which are put up into the Secret-parts of Women. But by the word Pessary, strictly tak'n, is to be understood a sort of solid Medicine, about a fingers length, sometimes somewhat bigger, which is put up into the Secret-parts with a Riband fasten'd to one end.3
He went on to explain the two therapeutic uses of a pessary which were to 'provoke the menstruum's, or to stop them [and] to hinder the falling down of the Matrix'. As Charras made clear, a pessary could be used to deliver medicines which could help a woman to deal with difficulties connected to her menstrual cycle. This was the primary use of the pessary. Gerard's Herbal (London, 1633) lists a wide range of therapeutic herbs that could be delivered this way. These include 'Sorcerer's Garlicke' (Allium moly) and Gum Succorie (Chondrilla juncea- a member of the daisy family) for bringing on a menstrual period, and by the same logic mandrake and briony were thought to help deliver a dead child and its afterbirth when used under a pessary, balme apple for healing an ulcer of the womb, and Jupiter's beard or Iovis Barba which was said to be very good for stopping heavy menstrual periods.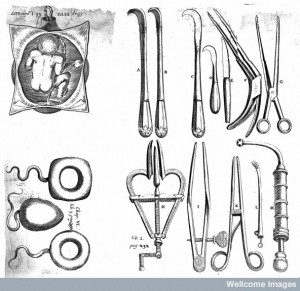 In her important 1981 article 'Attitudes to Menstruation in Seventeenth-Century England' Patricia Crawford commented that 'there was no unwillingness to advise married women to insert objects into the vagina'.4  This too was a key point in the use of treatment by pessary. It was only thought suitable for married women. To treat a 'maid' this way was to compromise her virginity and risk her reputation and so the treatment was strictly limited to married women.
The second use for the pessary involved a different type of object. The first one looked like the middle the three pessaries pictured (above), and somewhat like a larger version of a modern tampon, whereas to hold in a prolapsed womb a pessary looking more like the bottom one was used. French surgeon Jacque Guillemeau described how best to treat this event  – a common event in women who have had many deliveries – by firstly anointing the womb gently with a fresh butter mixed with rose oil. Then the midwife should gently manipulate the womb back into place. The pessary is then used to hold it in place.
For the second intention, which is to keepe the Matrice [uterus] in his place, when it is well put up and placed, the best and surest meanes is to thrust up a pessary, such a one as is here described, which hath this power to keepe the Matrice up, and yet not put it to any paine.5
Guillemeau advised keeping the pessary in place for a few days before replacing it with a fresh one
The Pessarie being put up, let it abide there two or three daies, when you take it out, put up a fresh one, keeping that to serve another time. There must also be a little string tyed to it, so to be fastned to a girdle, or some other thing, least it fall downe to the ground.6
Pessaries for this use were made out of several materials but often cork which was covered in wax to make it waterproof. William Sermon's The Ladies Companion describes how to manufacture a pessary this way; Sermon and Guillemeau both stressed the importance of making sure that this ring had a hole in it so as not to hinder the 'usual purgation'.7  This was considered vital: anything which caused either menstrual blood or lochia to be retained in the body was thought to be most dangerous to health. Guillemeau emphasises this when he added that you must not use any astringent medication on the pessary
If the woman be newly deliver'd, and in her sicknesse [i.e. bleeding]; you must not use any astringent medicine, for feare least you stay [stop] that; but it is sufficient to keep the pessarie there.8
The pessary then was a key and versatile tool in the treatment of 'the diseases of women' but one which was to used within defined limits.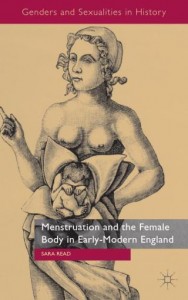 Dr Sara Read is a regular contributor to this blog. Her first monograph Menstruation and the Female Body will be published on the 4th September.
She is also, along with Rachel Adcock and Anna Warzycha, organising a conference 'Early Modern Women, Religion, and the Body' to be held on 22-23 July 2014 at Loughborough University. More information about Sara and her research can be found in the 'About' section of this website.
---
1 The methode of phisicke conteyning the causes, signes, and cures of invvard diseases in mans body from the head to the foote (London, 1583), p. 279.
2 Elaine Hobby, 'Introduction', in The Midwives Book; or, The Whole Art of Midwifry Discovered (Oxford, 1999), pp. xi-xxxi (p. xxxi).
3 Moses Charras, The Royal Pharmacopoeea, Galenical and Chymical (London, 1678), p. 61.
4 'Attitudes to Menstruation in Seventeenth-Century England', Past and Present, 91 (1981), 47-73 (p. 55).
5 Jacques Guillemeau, The Happie Delivery (London, 1612), p. 240.
7 The Ladies Companion; or, The English Midwife (London, 1671), p. 150. The illustration here is taken from Franҫois Mauriceau, The Diseases of Women with Child, and in Child-bed (London, 1672), p. 306.
8 Guillemeau, The Happie Delivery, p. 242.
© Copyright Sara Read, all rights reserved.