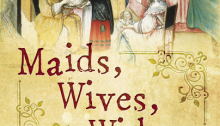 This is just a quick post to let readers know that Sara has a new book OUT NOW which some of you might find interesting.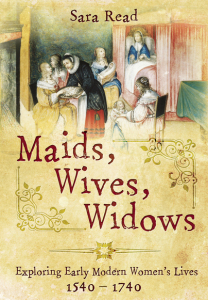 Maids, Wives, Widows: Exploring Early Modern Women's Lives 1540-1740 has several chapters on health care and medicine. The role of the housewife in providing the first line of treatment for any illness in the family is discussed in relation to the sorts of medicines she might manufacture.  Also considered is the way that the housewife met the nutritional needs of her family. Other chapters look at the theories and practicalities of menstruation, childbirth, and breastfeeding. The book also looks at some notorious criminal cases such as that of Sarah Malcolm who claimed the blood on her apron was not from the women such was accused of murdering but was menstrual, and Mary Toft who gained infamy via a confidence trick in which she 'gave birth' to many rabbits at intervals!
The book is available here for a special price of £15.99 (rrp £19.99)
 Sara will be giving a series of talks about the book around the country, the first of which is in Scunthorpe, North Lincs on Sat 30th May 2-4 pm at the Visual Arts Centre in the town centre. The book is dedicated to Sara's Grandmother who has lived in the town all her life, making it an appropriate first stop.  Signed books will be available at a discounted price. Free admission. All Welcome!
Sign up to attend here
The next event is to be held at the Five Leaves Bookshop in Nottingham on 4 June 7-8.30. Again there will be the chance to buy signed copies of the book. All welcome!
Sign up to attend here
The third event is an all day heritage day at Burleigh Court Loughborough University. Sara will be taking part on an author panel and around all day 10-4.30 to chat to. The event is free and all are welcome.  
More details  here
We'll keep you informed of further events nearer their times!