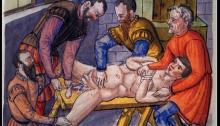 This is a shameless self promotion post I'm afraid. My latest two articles have just been published …
'They are called Imperfect men': Male Infertility and Sexual Health in Early Modern England'
The first is available open access in Social History of Medicine and explores how early modern medical writers understood male infertility and how surgeons used male fertility as a marker of good practice, particularly in hernia surgery.
Abstract:
Scholars of early modern gender and medicine have tended to focus on female infertility. Discussions that have included male reproductive failure have considered sexual ability and impotence, rather than infertility. Nonetheless, fathering children was important to male social standing and the fulfilment of their patriarchal roles. This article will demonstrate that male infertility was not absent from medical literature, but appeared in a variety of settings including tests for infertility, seventeenth-century handbills for treatments, and surgical treatises. It will show that medical and surgical writers accepted that men could be rendered infertile, but still sexually capable, in a variety of ways. Moreover, the article will show that seventeenth-century surgeons expected male readers to be concerned about their reproductive potential and constructed a framework of efficacy based upon their ability to secure on-going fertility.
You can read the full article here
"before midnight she had miscarried" Women, Men, and Miscarriage in Early Modern England'
The second co-authored with Sara Read is in available in the Journal of Family History and investigates men's emotional and medical responses to the miscarriages of the women in their lives.
Abstract:
Reproduction and childbirth in the early modern era have sometimes been represented as a uniquely feminine experience. Similarly, studies of domestic medicine have in the past overlooked the role that men played in domestic health care practices. This article builds on recent work that resituates men within both of these discourses by considering the ways in which men understood, discussed, and responded to the threat and occurrence of miscarriage in the women they knew. It considers a range of medical literature, spiritual diaries, and letters to illustrate that men were a central feature of many women's experiences of miscarriage.