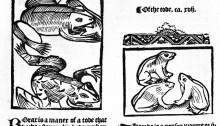 People often say that early modern men and women didn't drink water because it was dangerous. Medical writers were clearly worried about the safety of drinking water. But it was not just dirt that they feared, but the possibility of swallowing creatures that would then live inside the body.
John Archer's medical book described the nature of food and drink and how it could affect the body.  He claimed, 'There is a great variety of Waters, all which are cold and moist, but the best is that which is pure and clear, by the sight, taste, smell, and offers the sale of nothing to the tast, nor odour to the smell, which upon the fire is soon made hot, and taken from the Fire doth soon grow cold, which is light, and wherein Flesh and Fruit are soon boyled.'1
The worst type of water, Archer warned, was that found in lakes and marshes, which was thick and crude. This water offended the stomach, obstructed the bowels, and caused pestilential fevers.2 Archer explained that these waters could be 'corrected' by boiling, which would cause the dangerous parts to separate out and settle at the bottom.3
The surgeon Paul Barbette offered similar advice for soldiers away on campaign. His main fear though was a little more sensational. He observed that 'great care is to be had in the choice of water' and encouraged soldiers to drink 'clear Water, such as grows warm and cool again sooner than other waters'.4 He also recommended water that 'run[s] out of stony hills and from under rocks' as the best.5 At the same time Barbette cautioned against excessive or hasty consumption of beer and wine, in place of water. New beer, he warned, could cause strangury – a disease in which urine was voided painfully by drops accompanied by a stinging or burning sensation.6
Barbette was not worried about dirt and germs, he was concerned about frogs and serpents. He warned that drinking 'Pit or Ditch-water'  should never be done without first straining the water through some cloth because it could lead to the eventual vomiting of 255 frogs,
'least thou shouldst swallow Frog or Snake-spawn. For I have known and had in my cure a Countrey-man, who voided, though not at once but at different times, two hundred fifty and five Frogs, and of them many in my own house, in the presence of divers Ecclesiastical and Secular Persons'.7
As if one off-putting story wasn't enough Barbette continued, 'there is a Cook in the Hospital of Wessenburg or Landsberg, who, (as appeared by the event) had drunk the Spawn of Serpents, out of which were bred divers[e] Serpents in his Body, some of which he voided by vertue of the Medicine he took, amongst which there was one of the legnth of a Bavarian Ell.' Thankfully this unfortunate man was, in the end, described as he 'hath been since in good health'.8
To prevent such calamities Barbette explained that it was necessary to spread your handkerchief over the ditch-water and drink through that. Alternatively quenching a red-hot stone or iron in the water would make it safe. Finally he suggested that the water should be boiled and cooled and then have some bread put into it which would remove any corruption.
Despite these dire warnings that frogs could breed in the stomach, it was occasionally noted that frogs spawn was a useful remedy. Samuel Hartlib recorded in his ephemerides that a cloth soaked in frogs spawn was beneficial for any accident, hurt or wound:
'Cloth dipped in frogs sperma
Take Cloth vn-bleached and vnwashen, dipped in March into river where sperma ranarum twice or 3. a day and let it drye and laid vp for all occasions of hurts, wounds etc. For in case any accident befal you, wash the hurt with your owne Pisse, and cut of a smal piece from that cloth and lay it vpon the wound and it will heale infallibly.'
_______
1. John Archer, Every man his own doctor in two parts … (London, 1671), p.81.
2. Ibid, p. 84
3. Ibid, p. 85.
4. Paul Barbette, Thesaurus chirurgiae : the chirurgical and anatomical works of Paul Barbette … composed according to the doctrine of the circulation of the blood, and other new inventions of the moderns (London, 1687), p. 29
5. Ibid p. 30.
6. Ibid, p. 30.
7. Ibid, p. 29.
8. Ibid, p. 29.
© Copyright Jennifer Evans, all rights reserved.