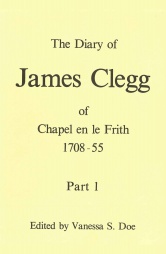 In a poignant diary entry dissenting minister and local physician James Clegg (1669-1755) described the death of one of his infant sons from convulsions. In March 1720 he noted that 'My dear child Ebenezer was seized about the first day of this month with very strong convulsions which continued above a week and increased in violence till the poor babe was brought into a weak state'. His father recorded that 'I tried many means to procure it ease and followed the use of them with earnest prayers for success- the fits left it for several days but on Sunday last it was, its lungs were clogged with phlegm and I apprehended the convulsions that had seized the internal muscles of the Thorax and in one of these fits the sweet creature expired in my arms on the lord's day in the morning about six'.  It is usual in the case of severe fits for the sufferer to be unable to swallow. Ebenezer Clegg was just a week short of his three month birthday when he died on 13 March 1720, leaving his father distraught.
This was the first time James Clegg had experienced death of such a close relation. Indeed, both his parents were still alive and lived well into old age. Clegg's faith was both a comfort and a challenge to him at this time. He worked as minister in the Peak District serving a rural community and also pursued a career in medicine to supplement his income. He received his formal medical degree from King's College in Aberdeen in November 1729. Reflecting on Ebenezar's death Clegg wrote that, 'This is the first time that God hath suffered death to enter into my family ever since I had one but it will not be the last. I shall go to him but he shall not return to me. We must all follow in our order'.
Clegg tried to take comfort from the fact that God had taken a child and not his 'dear wife' or he would have been 'very distressed' as this would have been more 'wide and afflicting' a 'breech'. This fits in with the biblical teaching that the primary relationship was between a husband and wife for the procreation of children, but Clegg makes no mention in this reflection of how his wife Ann was coping with the death of this her seventh child.
Like many religiously-minded people at this time, Clegg was concerned that the death might be a punishment from God and sought to examine his conscience for confirmation of this. He wrote that, 'I am conscious that I have for some time past been very careless of my heart and in my conversation very loose and carnal'. He also considered that he had 'often either omitted prayer in my family or hurried it over in hast and in private I have spent but little time in that exercise'. He went on, my 'lusts have been strong within and my life hath been foul and muddy without'. He concluded that 'Therefore I cannot wonder that God hath sent this affliction into my Family. I had reason to expect some chastisement he hath sent it to awaken and reform me and my this be the fruit of it; I desire to learn what God would have me to learn by this and I beg he will show me what it is'.
Clegg then listed the six steps he would take in light of this tragedy, and so he would now be:
more resolved against all sin
keep away from temptations
more diligent in reading, studying, and writing
more constant and serious in his prayers with his family
more loving and peaceable meek and patient in his behaviour towards my wife and servants
more contented with both his family and his lot in life (he claimed to have sometimes thought his family too burdensome)
This shows the way that Clegg worked through his grief using his religion and sought to lessen the chance of such a bereavement happening again by demonstrating to God that he had learned the lessons this experience afforded. It also shows the way that medicine and faith were considered to work hand in glove and as a medic, Clegg presumably felt that he had used all means possible to save Ebenezar's life and therefore did not need to factor any reflection on the role his medicines played in this sad story into his grieving.
____________________________
See The Diary of James Clegg of Chapel en le Frith 1708-55, Part 1, ed by Vanessa S. Doe (Derbyshire Record Society, II, 1978)