In this week's blog post I am returning to the medical treatise of William Drage, the apothecary and physician of Hitchin, Hertfordshire, who we saw last week moaning about medical learning.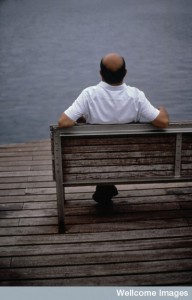 Male pattern baldness can be rather distressing. It is joked about and poked fun at, as are the attempts at 'comb-overs' and other methods of concealing and hiding increasing baldness. Topical lotions are sold that can stop and in some cases reverse baldness encouraging new hair growth. The adverts for such 'foams' on British television do not encourage the idea that going bald is something to just be accepted. Like all other aspects of ageing we are repeatedly told that we should be trying to turn back the clock and hold back the tide, maintaining a vice like grip on our youthful appearance for as long as possible. Men, these adverts claim, should be trying to prevent their hair loss.
William Drage was a little less adamant about this, but he did discuss several remedies for preventing or reversing baldness in his treatise Physical Experiments (1668). Drage did not identify all hair loss as the same problem; he described baldness, ophiasis and alopecia making clear distinctions between the loss of hair on the head, partial hair loss, and complete hair loss across the body.1
Of Baldness he wrote it 'is a defect of Hair from old age, or a privation of it from want of good Humours, or an Hectick dry state, or fuliginous Excrements, chiefly happening in the forepart of the Head, the Skin there sticking to the bare Bone.'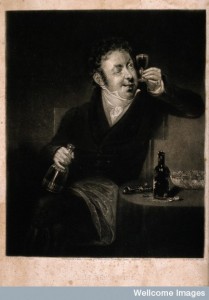 As he described the causes of baldness he focused on the idea of the dry body noting that, in addition to poor food and a dry distemper of the brain, the problem could be caused, or exacerbated, by 'whatever things do dry … as Watchings, Cares, Venery, &c.' So worrying, staying awake at night and too much sexual activity were all in the firing ling as causes of baldness. Indeed when he moved on to discuss the cure of this particular problem he again reiterated the importance of a man's sexual behaviour and alcohol consumption: 'Cure, is first by a good Dyet, wherein we must avoid all salt sharp binding things; exercising of Venery is very bad, and also Wine.' 
A man's baldness thus became tied to his manliness through his ability to express 'self-control', by regulating his consumption of wine and restricting his libido to the appropriate levels. Men who went bald inadvertently signified to their peers that they were excessive, either in their consumption of wine or in their sexual lives. Baldness, however, was also a sign of a manly body. As Drage informed his readers baldness was a 'male' condition rarely found in those without manly bodies:
'Eunuches, because they are more moist, never are bald, nor are Women commonly so bald as Men, because not of so dry a Temperature.'

Having explained to his readers what had caused their baldness, Drage concluded his discussion by providing several remedies that could be used when this problem arose. Nonetheless, he was clear to note that '`Tis hard to cure it, yet there is hopes to stay its spreading greater.'
Drage firstly recommended 'An Unguent of Labdanum, Oyl of Mastick, and Pulpe of Fenugreek Seeds'  He also suggested that 'cutting of[f] the Hair often is very good, for so being shorter, if requires the less moisture, and grows thicker.' (as was demonstrated above hair required moisture to grow, and so a slack of moisture damaged the hair and caused baldness).

He also advocated some medicines that would 'bring again Hairs where they are wanting' including the 'Froath of the Sea, by washing of a bald Head decently and comelily, to deck it with Hairs'. Or the the 'Juyce of Onions, anointed for many times together (in the sun, say some) upon the bald place, is very effectual to bring the Hair again.'
Just in case a man's baldness was not confined to his head Drage also included two other remedies: 'the Roots of Jacinths are said to procure Hair in Beardless Men; as also that the Ashes of Southernwood, mixt with Oyl of Radish or Organy [oregano], will quickly cause the Beard to grow.' As we have already seen, Will Fisher has described how important beards were to early modern masculinity.2 Drage's concern about head hair, baldness and its connections to the male body and male sexual activity demonstrate that head hair may also have been just as important.
But perhaps it was better to be bald … this recipe to help hair grow and kill 'worms' from Mary Glover's 1688 manuscript collection, is even less appealing than onion juice or radish oil.
'Take a quart of Cows piss, a pint of honey, a pint of sack [wine], 2 handfulls of Rosemary flowers and tops, and a handfull of stinking old shoes cut, let it stand in infusion 12 houres, then still it, you must wash the haire with a spunge very well to the Roots and wipe it with a Cloth and Comb it all the while it will kill the wormes in the haire.'3
____________________
1. William Drage, Physical Experiments: Being a Plain Description of the Causes, Signes, and Cures of most Diseases incident to the Body of Man (London, 1668), 382-383. (All quotes are from these pages).
2. "The Renaissance Beard: Masculinity in early modern England and Europe,"Renaissance Quarterly, 54:1 (2001): 155-87; Materializing Gender in Early Modern English Literature and Culture, Cambridge University Press (2006).
3. British Library MS ADD 57944, Mary Glover her Booke of Receipts: Anno Domini 1688.
© Copyright Jennifer Evans, all rights reserved.