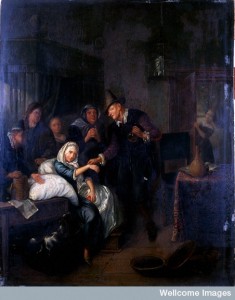 When we are unwell we go to specialised centres for medical treatment, clinics or hospitals. If our condition constrains us to the house a doctor may visit us at home and once we have been to a consultation we may continue our treatment at home. For the most part however our interactions with medical practitioners occur in dedicated medicalised areas. This was not always the case in early modern England; consultations could happen in the home or by letter, or in the practitioner's place of residence. Now this might seem like a trivial point to consider, but the places in which certain social interactions occur can be very important. Today's blog is about the problems that may have occurred when patients and practitioners became lodgers in someone else's home.
In his fascinating article 'Men Controlling Bodies' Robert Weston considers the relationship between the male medical practitioner and their patients.1 He shows that male patients were of a higher status than their medical practitioners. Weston suggests it may have been particularly difficult for patients to relinquish control of their bodies to someone of a lower status, which could lead to patients contesting the treatment that was recommended for them.2 It would appear from the sources I have looked at so far that the place in which consultations took place may have been woven into these issues.
The 'home' or 'household' was very important to early modern society: it was a centra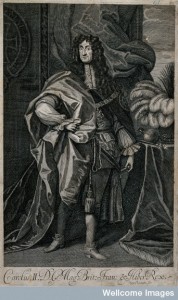 l feature of  ideas of patriarchy. The father as head of a household was likened to the monarch at the head of the country. Everyone residing within the home was under his authority and were his responsibility. So being the head of household was one of the ways in which men could fulfill their duties and demonstrate patriarchal power. The question therefore is did this understanding of the household affect the relationship male patients had with medical practitioners?
In some cases medical practitioners to moved into the houses of those they treated. The son of the famous chemical practitioner Jean Baptiste Van Helmont, Francis Mercury, moved into Ragley Hall at the invitation of Lord Conway in order to treat Lady Anne Conway's inveterate headaches. Lord Conway was rarely at home and the presence of the medical practitioner began to cause some scandal within the home. Francis Mercury began to host Quaker meetings at the house and rumours circulated that Lady Anne had turned Quaker. Her good friend Henry Moore became so concerned about these rumours that he wrote to Lord Conway to ascertain the truth, although it turned out Lord Conway knew little of what was occurring and accepted his wife's word that although meetings were happening she had not taken up a new religion.3 Although I have not come across any evidence in the published Conway letters, these problems may have affected the perception of the Lord Conway's ability to order his household.
In surgical treatises, however, it seems more common for patients to reside within the house of a medical practitioner or lodgings allocated by them. In this case the patient had to submit his bodily authority to that of the practitioner, and had to live within his household under his patriarchal authority.
One reason for a patient being moved into a medical man's home was precisely because they would not accept the authority of a medical practitioner and did not follow their recommendations. In the following example the 'naughty' patient who was supposed to finish his course of treatment, for a breakout over his head, with bathing was removed to lodgings chosen by the medical practitioner so that he could make sure that he followed the treatment regime dictated. Although, he is not in the house of the surgeon himself, it is assumed that once living in someone else's house under someone else's authority the patient will be more malleable and tractable:
'but he supposing the latter course [bathing] needless, broke off unknown to me. About two months after he was brought to me more diseased, and upon enquiry into the cause I found he had taken too great a liberty of eating and drinking during his Cure.' 'To avoid which inconvinience now I lodged him in a house where there was a more strict guard of him'. 4
It was also possible for patients to defy the diagnosis or treatment of the medical practitioner by removing themselves from the physician or surgeon's house; creating a physical distance between them and allowing the patient to resume authority and control over his own body. Richard Wiseman recorded that:
'A Man about 34 years old, of a full body, came to London, and lodged himself and his Wife in the house of his Physician, he being indisposed with an inflammation on his belly to the left Groin, pretending he had over-heated his body by disorder of drinking. He was advised to keep to his bed, and dispose himself to a breathing sweat. After a day or two he complained more of his pain, upon which account I visited him, and saw the inflammation discussed on his belly, but there remained a tumour in his Groin near supporated'. After some purges and other treatments Wiseman continues, 'But the Physicians and my discoursing with the Patient of his Disease he grew passionate, and denied it to be Venreal; and a day or two after removed out of his lodgings two or three miles into the Country, and to avoid the Discovery of his Disease, he dismist me, and entertained another Chirurgeon, who complyed, and promised in a few days to cure him without the help of internal Remedies: But after all his endeavours another Chirurgeon was Consulted, by whose advice the Patient was put into a course of Antivenereals at last, and cured of that, but grew otherwise Diseased, and lived not many years.' 5
So we can see from these examples that perhaps the placing of the patient within the home of a physician or surgeon increased the authority of the practitioner and enhanced the submission of bodily control by the patient. This however, was not always welcome and perhaps caused tension between the two parties. It is also apparent that supplying, seeking and moving lodgings provided both patients and practitioners with a means of adjusting the treatment regime to suit their own needs and purposes.
____________________________________
1 Robert Weston, 'Men Controlling Bodies: Medical Consultation by Letter in France, 1680-1780' in (eds) Susan Broomhall and Jacqueline Van Gent Governing Masculinities in the Early Modern Period: Regulating Selves and Others (Ashgate: Farnham and Burlington, 2011), pp. 227-246
2 Robert Weston, 'Men Controlling Bodies', p. 236.
3 Conway Letters: The Correspondence of Anne, Viscountess Conway, Henry More, and their Friends, 1642-1684. ed. Marjorie Hope Nicolson (London: Oxford University Press, 1930)
4 Richard Wiseman, Severall Chirurgical Treatises (London, 1676), p. 36.
5 Richard Wiseman, Severall Chirurgical Treatises, p. 27.
© Copyright Jennifer Evans, all rights reserved